NEITHER DOESTHE SEA SLEEP
Galería Astarté Madrid / Galería Artizar La laguna Tenerife 2015
Between chamber music, interior, and opera, the complete exercise; between object and explosion; between image and words, sounds, voices and echoes. Pamen Pereira's work is made of wavering, synthesis, travelling, dialogues, actions and mystery. With the passing of time, she has unfolded, has become charming, fascinating but still magical. The origin is the same as when she first came to Madrid thirty years ago: an idea on a piece of paper, a somewhat clumsy but precise drawing, a whiplash right to emotion. As an artist, Pamen Pereira is stunning and her work is somehow like Pandora's box: on the verge of revealing her mysteries.
Exhibition curated by Miguel Fez-Cid Photography: Lola Guerrera, Efrain Pinto,David Gonher Video David Gonher, Pamen Pereira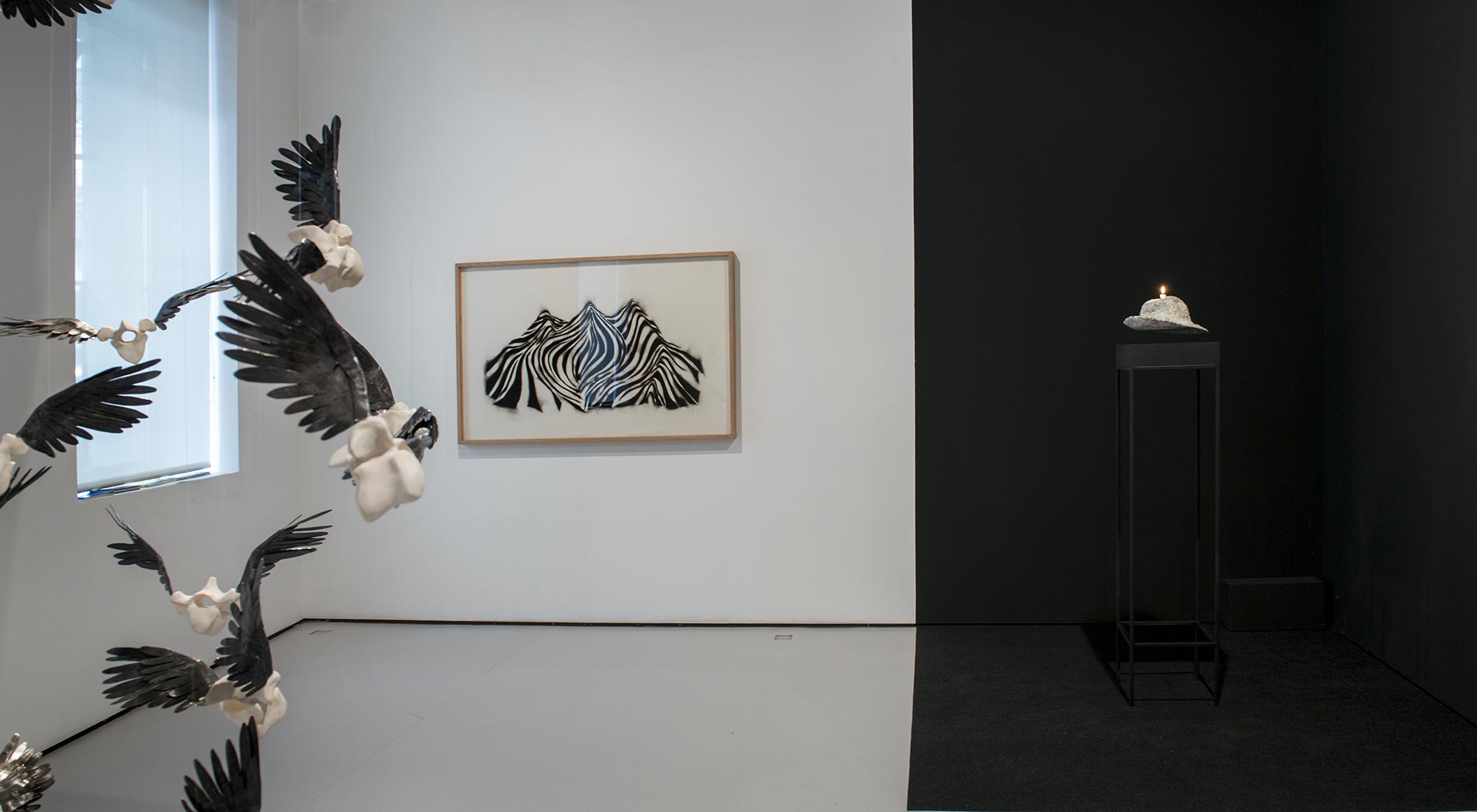 Galería Astarte Madrid 2015
La artista gallega Pamen Pereira vuelve a la Galería ARTIZAR tres años después para presentarnos Tampoco el mar duerme II, una variante de la exposición que se vio en la Galería ASTARTÉ de Madrid el pasado 9 de abril, y que comisariada por Miguel Fernandez-Cid fue todo un éxito de crítica y público dentro del programa A 3 bandas.
A nuestro espacio de La Laguna llega con una reorientación de dicha exposición, selección de apenas tres o cuatro piezas que conforman un clima cerrado donde inevitablemente cada obra nos ofrecer. una salida, una necesidad de escapar, ya sea a la inmensidad del cielo, la fuerza del mar o nuestra propia mente.
Gracias a una larga investigación, trabajo y dedicación nacen obras como Tampoco el mar duerme, que "Algo o alguien permanece despierto eternamente. Una pulsión de vida constante, expansión sin fin… aun en la quietud y en el silencio. La inmensidad del mar, las desatadas fuerzas del averno, metáfora o trasunto de las emociones contenidas en una pequeña pecera. Tremenda tempestad domesticada en un pequeño recipiente".
También  podremos disfrutar de la pieza Ecuanimidad que hace referencia a un estado de alerta permanente perfectamente representado por la atención que atrae una vela derritiéndose sobre un sombrero. Y a esto se le suma El mundo visible es una excusa, instalación de más de cuarenta piezas suspendidas en el aire. "Una vez reconstruidas a mi antojo las vértebras de vaca, las puse a volar aunque con alas pesadas. Los que suele estar oculto y cercano a la tierra como los huesos, sale a la luz. También lo pesado se eleva. Como dice mi amigo Carlos de Gredos Tal vez la muerte vuele con alas de plomo"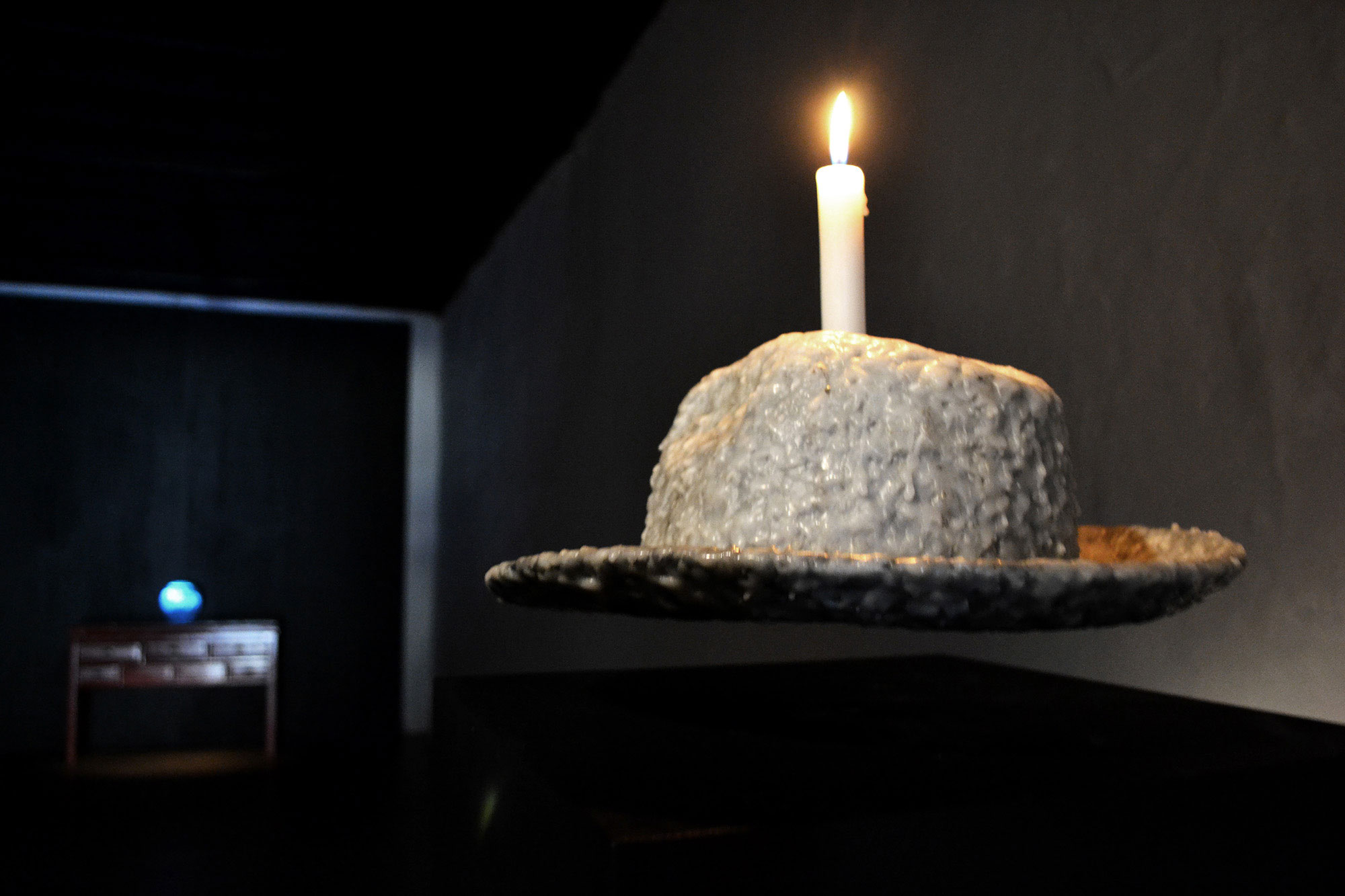 Equanimity 2015 . Levitating hat in a magnetic field, wax candle, electromagnets.